Parent Engagement Program
Promoting Parent Leadership and Participation in Schools
The Latino Civic Alliance has partnered with Highline School District to support Latino families within the school district.
OUR MISSION  By incorporating a culture-infused approach, we help parents develop communication tools to improve dialogue with school staff and provide parents with knowledge they need to participate in their child's education, advocate for themselves and their families and work together with schools to ensure Latino families thrive.
4 CORE BELIEFS:
All families have dreams for their children and want the best for them
All families have the capacity to support their children's learning
Families and school staff are equal partners
The responsibility for cultivating and sustaining partnerships among school, home, and community rests primarily with school staff, especially school leaders
BENEFITS OF OUR PARENT ENGAGEMENT PROGRAM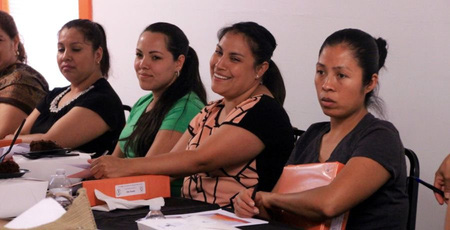 Parents establish mutual dialogue with school leaders and their children to create balanced healthy relationships.
Learn about the challenges their children may be experiencing in school and work with school leaders to improve the student's experiences and parents' understanding of the educational system
Parent support groups and workshops to build leadership skills, and support one another to create and facilitate a stronger community network and successful partnership with the school district.
Learn how to navigate the public education system along with programs used within schools. Help in accessing community resource programs that provide assistance with utilities, healthcare, citizenship, rent and more.
TRUSTING RELATIONSHIPS, OPEN COMMUNICATION AND FAMILY & SCHOOL PARTNERSHIPS.
For more information, contact Marie@latinocivicalliance.org or (206) 210-9093 x888.